Event Information
Here at Education Network, we have many fun and exciting events for children to enjoy while creating a rich English environment for them to practice and further develop their speaking skills. Each event is carefully designed to allow students to use the language they have learned in class, applying their knowledge to everyday life outside of school. Through this process, we hope to instill a deeply rooted desire to speak more and more English.
The style of many of our events are either for students and parents together or for students only. Please read further for more information on each event. Furthermore, more extensive information on each event will be available a month prior to the scheduled date of the event.
Spring Field Trip (in April)
This is one of our most popular events. Held every spring at Morikoro Park, groups of parents and children participate in a walk rally around the park while stopping at various "stations" run by staff members and teachers. Each group will play games, answer questions, and many more fun activities at each station to receive a stamp. This event is an excellent chance for students to meet more of the foreign teacher staff, meet new friends, and of course, speak lots and lots of English! Parents also like this event because they are able to see their children communicating with many people in English and witness their motivation to speak increase with every step.
International School Bazaar (in May)
This bazaar is the endeavor of the parents of the Kids International School students. This year's topics will include a photo booth, making crafts with English instruction, a fun music and book story time, manicures, perfumes, face painting, and other great games. This is a favorite event of many. Please come out and enjoy the day with us!
English Summer Camp in Okuetsu Kogen, Fukui prefecture
Students from the 3rd grade and above are able to participate in this 'summer camp' in the middle of the beautiful mountains of Fukui Prefecture for a three day, two nights stay. Participants are able to share more meaningful time and conversation with foreign teachers, not to mention leaving the comfort and safety of their homes to learn how to do things on their own. We catch fish with our bare hands, have an exciting walk rally through the mountains, and many more fun activities that students normally are not able to do in their every day lives.
Summer Day School (in July-August)
Students from the first year of kindergarten through elementary 6th grade are able to participate in this immersion school in which they will be introduced to a purely native English-speaking environment. Classroom events and activities are based upon the weekly theme. Our policy during this summer program is to "learn through play," or in other words, to learn through various fun activities. The application window to participate in this event is only a week long, so please be sure to apply quickly. Event location: Nagakute School
Presentation Contest
Students from the advanced Saturday classes and other intensive classes participate in this extensive speech contest. Participants have the choice between giving a speech on a topic of their own choosing or reading a story. The key importance of this contest is for students to use their current linguistic knowledge and further shape and hone their public speaking skills as well.
Halloween Camp (in October)
This is the event that students always look forward to with every passing year. Held at the Mihama Shonen Shizen no Ie for a two day, one night stay, this Halloween theme based camp is available for 2nd-6th grade elementary students. Just some of the fun activities that we do at this camp include playing many Halloween related games, picture-story time, singing songs, a costume parade, a scary night walk and much more! Participants are divided into teams with whom they will work together with throughout the camp experience. One of the most beloved events at this camp is using their earned "prize money" to buy goods at our Halloween shop.
Christmas Day School
This is a fun Christmas themed event that is available for first year kindergarten through 6th grade elementary students. Participants will be immersed in an all-English environment in which we make cookies, read storybooks, play games, make crafts and of course share the culture of Christmas. Event locations: Nagakute, Sakurayama, Nishiharu
Storytelling Contest Final
Every year in November and/or December we have a class contest for students to participate in a storytelling contest throughout all the KEC English School classes. One student is chosen as a representative from their class to participate in the final storytelling contest. Participants have the choice to read any book they studied in class. Although many students choose to read the same book, not one performance is the same. Students are encouraged to read smoothly with awareness of proper accents and the use of gestures. For those who make it to this final contest, it maybe be very frightening to stand on stage in front of so many people, but more often than not students are able to walk away from this event with a much higher appreciation and motivation to learn and study more in the future.
Spring Day School (in March)
This event is for first year kindergarten through elementary 6th grade students. Based on spring related themes, this English immersion class includes cooking, reading books, playing games, making crafts, and much more! Participants are also able to learn more about and experience international cultures. Students may participate from one to all three days. Event location: Nagakute, Sakurayama, Nishiharu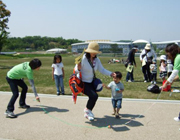 Spring Field Trip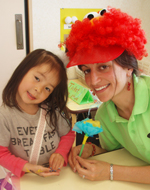 International School Bazaar 1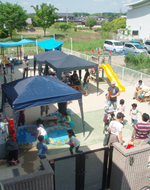 International School Bazaar 2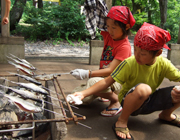 English Summer Camp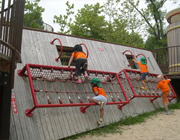 Summer Day School 1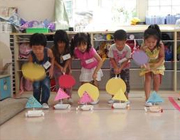 Summer Day School 2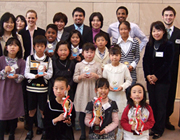 Presentation Contest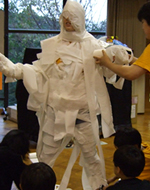 Halloween Camp 1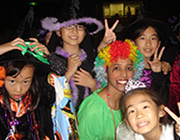 Halloween Camp 2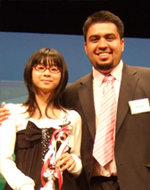 Storytelling Contest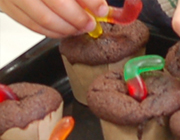 Spring Day School