Kids Station – Educational Materials
Kids Mart distributes many English related educational materials both inside and outside of Japan. Kids Mart produces one to three catalogues a year, which includes many picture books and other educational materials to help teachers or even parents to teach English.
Within the Kids Mart catalogue is included the popular Matsuka Phonics Institute (MPI) product line created by Director Yoko Matsuka. For those who are interested in more information about MPI, there is an available consultant from MPI who is able to further explain how to use the materials. Please contact us for more information.
Additionally, there is a wide range of materials that can be used to teach international understanding for kindergarten children and to promote English for children. These include posters, flannel kits, and puzzles to be used as visual aids. There are also many excellent items for beginner elementary students as well. Be sure to pick up your free catalogue today!
About Requesting a Catalogue and Orders
How to Request the Catalogue
For those interested in a copy of the Kids Mart catalogue, please call us at 0561-64-5064 or E-mail us. Shipping is free. If you would like more information about the products within the catalogue, please feel free to give us a call.
How to Order from the Catalogue
Please fill in the order form that is included with the catalogue and fax or mail it to us. E-mail orders are also possible.
* You may also print out a copy of the order form here.
About Shipping
There is additional shipping fees for items ordered from the catalogue.
Within the Aichi area:

650 Yen

Gifu, Mie, Shizuoka areas:

750 Yen

Tokyo, Osaka areas:

850 Yen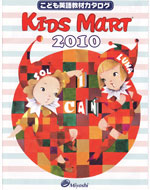 Kids Mart 2010